[

huscoon

]

| | |
| --- | --- |
| Security: | |
| Subject: | FFFF Semifinals |
| Time: | 01:57 pm |
I looked back at introduction used for last year's semifinals and I realized that it almost perfectly describes this year's semifinals as well. So, forgive the lack of creativity because you will see four of the most creative fursuits ever after the copy-and-pasted intro.
Well ladies and gentlemen, in less than two weeks, you will crown the
first
second champion of the FFFF. But for now, we have four fursuits remaining, that have very little in common. Aside from the fact that they are all semifinalists, these four suits and four suiters are as different as they are wonderful. Just more proof that there is no specific formula for building a great fursuit or becoming an entertaining performer. They come from every direction imaginable.
And your semifinalists for August 11th are...
Greifer

Owner: Tilt Longtail

Builder: Jax

[VIDEO]

Debut: Furry Weekend Atlanta '05 with the previous owner, Megaplex '06 with Tilt

Species: Fox

Favorite Activities: Bowling, drinking beer, and dancing

Favorite Memory: The lawn chair incident with Calamity Cougar at MFF.

Biggest Inspiration: Moose's antics which lead to the epic fursuiting video, "You Can't do that to Greifer on Youtube"

Favorite Meal: Breakfast with his good friend, Takala

Describe Your Fursuit In One Word: Sexy.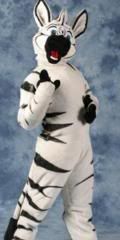 Takala

Owner: Takala

Builder: Arend Studios

[VIDEO]

Debut: Memorial Day Parade, Anthrocon '06

Species: Zebra

Stripes: 50, one for each state

Resides In: Florida

Enjoys: Fruit Stripes Gum & Zebra Cakes

Favorite Moment: Performing at Give Kids the World

Talents: Cooking, hamming it up, and outrunning predators
Jager

Owner: Nevermint

Builder: One Fur All

Debut: Eurofurence 13

Species: Deer/Wolf Hybrid

Favorite Activities: Charity walks, visiting schools, and halloween parades.

Biggest Inspiration: His family.

Describe Your Fursuit In One Word: An Addiction!

From: Colorado. Born and raised.

Name's Origin: Scribble Fox's idea.
Neo PanTyger

Owner: Neo PanTyger

Builder: Rose Quoll

[VIDEO]

Debut: Rocket City FurMeet '07

Species: Panda/Tyger Hybrid

Special Markings: black panda eyespots, chest markings, & tiger stripes: 3
along his arms, 4 on his sides, 3 down the back, and 3 down his tail

Favorite Memories: Anytime he's made people smile and see their face light up

Biggest Fursuiting Inspiration: People like Yippee Coyote who have
been at this method of expression for a long time and somehow always breathe new life into it

Favorite Clothing: His Elvis cape and sunglasses!

Describe Your Fursuit In One Word: Sillyfun!
Open to: Friends, detailed results viewable to: None.
Participants: 490
Greifer vs. Takala?
Greifer, owned by Tilt Longtail, built by Jax
Takala, owned by Takala, built by Arend Studios
Jager vs. Neo PanTyger?
Jager, owned by Nevermint, built by One Fur All
Neo PanTyger, owned by Neo PanTyger, built by Rose Quoll
If you cannot vote in the poll, that is because you are either not logged-in or you are not a member of this community. If you want to join this community,
click the massive link that is this entire sentence, and Rhett and I will get around to approving you as quickly as possible.
To recieve e-mail updates from LiveJournal when this community is updated,
click somewhere around here
, check "Someone posts a new entry to
fursuittourney
", then Save.
The face-off for this coming Monday, August 18th, will be the 2008 FFFF Championship!
comments: Leave a comment